The below are advertisements for a vacancy / vacancies within Urdd Gobaith Cymru, Wales' largest youth organisation, for which the ability to speak Welsh and English is essential.
Prentis Chwaraeon Cymunedol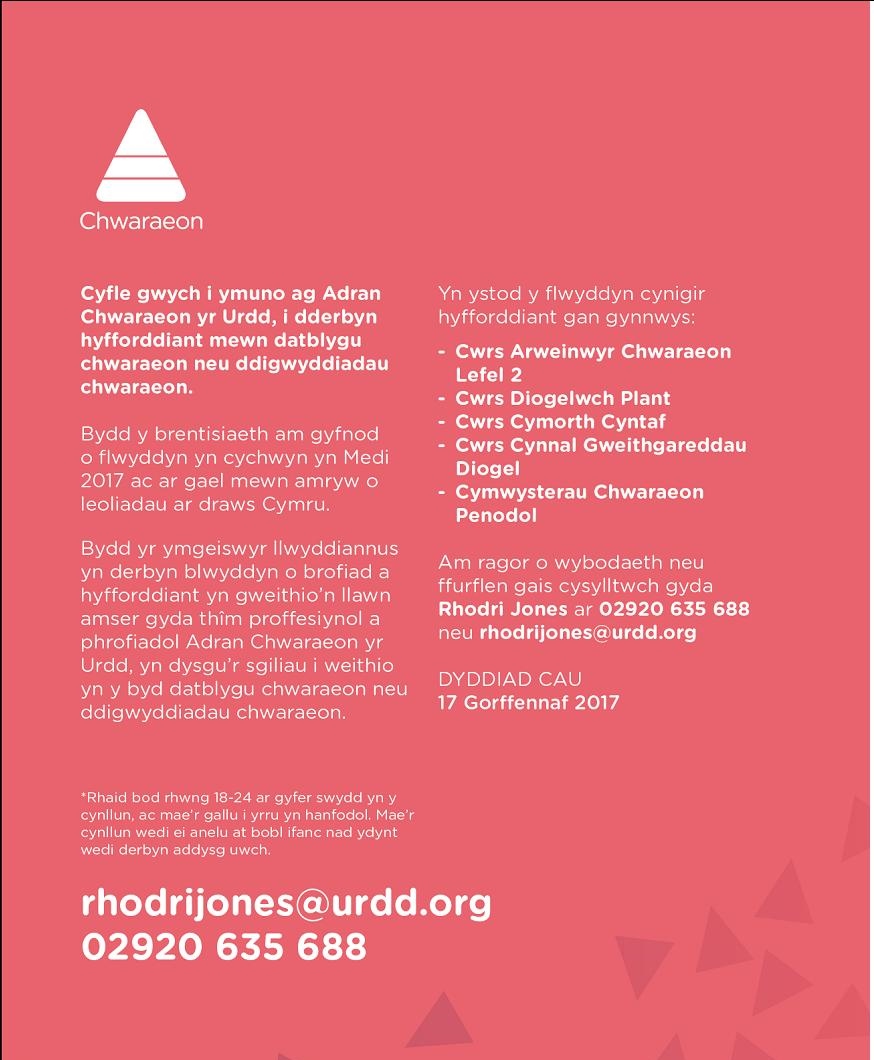 Disgrifiad llawn: Prentis Chwaraeon
Am fwy o fanylion, cysylltwch â Rhodri Jones - 02920 635 688 / rhodrijones@urdd.org
Dyddiad Cau: 9yb, 17 Gorffennaf 2017
Prentisiaeth Gwersyll Llangrannog
Lleoliad: Gwersyll yr Urdd Llangrannog
Cyflog: Gwelir y swydd ddisgrifiad llawn
Disgrifiad byr: Cliciwch yma i weld yr hysbyseb
Disgrifiad llawn: Prentis Gweithgareddau Llangrannog
Am sgwrs anffurfiol a manylion pellach cysylltwch ag Iestyn Evans ar 01239 652140 neu Iestyn@urdd.org
DYDDIAD CAU: Dydd Gwener, 1af Mehefin 2017
Swyddog Ieuenctid Sir y Fflint
Cytundeb tymor penodol rhwng Ebrill 1af, 2017 a Mawrth 31ain, 2018 (yn y lle cyntaf. Mae'r swydd wedyn yn hollol ddibynnol ar gadarnhad grant gan Gyngor Sir y Fflint yn flynyddol.)  
Oriau – 35 awr yr wythnos (yn cynnwys oriau anghymdeithasol -   nosweithiau a phenwythnosau)
Cyflog – Graddfa 5: £18,779 – £21,769  y flwyddyn pro rata
Lleoliad – Swyddfa'r Urdd, Pentre Cythraul, Yr Wyddgrug.
Am ragor o fanylion gweler y swydd ddisgrifiad yma (PDF) neu cysylltwch a Sian Rogers ar 07976003320 neu sianrogers@urdd.org
Dyddiad cau: Mawrth 30, 2017.
Dyddiad Cyfweliad: Ebrill 6ed, 2017.
Anfonir y ceisiadau electronig at sianrogers@urdd.org
Neu copi post at:
Sian Rogers
Cyfarwyddwr Ieuenctid a Chymuned y Gogledd a Canolbarth Cymru
Uned 26, Ystad Ddiwydiannol Colomendy
Dinbych
Sir Ddinbych
LL16 5TA
Cynorthwyydd Personol i'r Prif Weithredwr
Lleoliad: Swyddfa'r Urdd Caerdydd, Canolfan y Mileniwm
Cyflog: £19,061 (Pwynt 1) - £22,097 (Pwynt 6)
Mae'r Urdd am recriwtio Cynorthwyydd Personol deinamig i gefnogi'r Prif Weithredwr. Bydd yr ymgeisydd llwyddiannus yn darparu cymorth gweinyddol i'r Ymddiriedolwyr, Cyngor yr Urdd a'r  Byrddau, yn ogystal â'r Uwch Dîm Rheoli.  Rydym yn edrych am Gynorthwyydd Personol profiadol, sydd gyda'r gallu i ddarparu cymorth gweinyddol effeithiol i'r Prif Weithredwr.
Disgrifiad llawn: Cynorthwyydd Personol I'r Prif Weithredwr
Am sgwrs anffurfiol a manylion pellach cysylltwch â Sioned Hughes (Prif Weithredwr) ar 02920 635689/07976 003300 neu sionedhughes@urdd.org
Anfonwch Ffurflen Gais yr Urdd ar e-bost at swyddi@urdd.org
DYDDIAD CAU: Dydd Mercher, 5ed Ebrill 2017
DYDDIAD CYFWELD: Dydd Mercher, 12fed Ebrill 2017