Urdd Boards
The Community Development and Activities Board
The role of the Community Development and Activities Board is to advise the Urdd Council on policies regarding national activities. The Board is responsible for:
Leading developments in national activities and to introduce recommendations to the Council. 
ensuring that the movement has appropriate policies on child protection and guidance on developments in national activities. 
ensuring development and balance in the following fields – activities, visits, sports and humanitarian work including the Message of Peace and Goodwill
The National Activities Board has the right to establish the following panels: Humanitarian, Magazines, Sports
To contact the board please email helo@urdd.org
The Business Board
The work of the Business Board includes
approving budgets, accounts and financial statements
ensuring that the movement's accounts are prepared
ensuring that the movement has appropriate policies on investments and funds in reserve
monitoring and advising on the financial viability of the movement
To contact the board please email helo@urdd.org
The Eisteddfod & Arts Board
The Eisteddfod & Arts Board's role is :
developing the Urdd National Eisteddfod as a successful cultural festival where everyone enjoys using the Welsh language, organising a positive, prominent image and new attractions.
promoting the arts within the Urdd's services to its members and therefore 
contributing to cultural life in Wales. The highlight is organising the Urdd National Eisteddfod every year.
ensuring that the Eisteddfod initiates arts activities on a regular basis
To contact the board please email helo@urdd.org
Bwrdd SyrIfanC
Role and Purpose of Bwrdd Syr IfanC:
The role of the Syr IfanC Board is to advise the Council on policies regarding the national activities offered to our 15 to 25 old members.
The meetings gives our members a chance to:
Hold a discussion on what is important to them (members between 15 and 25 years old) so we can develop the Urdd to suit them. 
A chance for the members to express what is important to them, and a chance for them to give the Urdd honest advice on what is important for them. 
A chance for the young people to express their opinion and reactions to the Urdd activities in their region, and feed this information nationally. 
Offer advice and ideas on how to build on the Urdd's work. 
A chance for the young people to come from all across Wales to discuss, but to also form friendships. 
This is a chance to discuss everything that affects young people today, including issues that affect the Welsh language. 
To contact the Board email ifanC@urdd.org
Urdd Executive Committee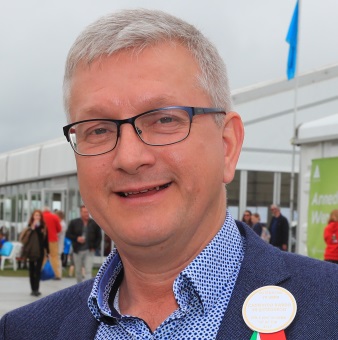 W. Dyfrig Davies
Chairman and Trustee
Originally from Newcastle Emlyn in the Teifi valley, Dyfrig and his family have settled near Llandeilo. He was a secondary school teacher for a few years before moving to the media industry. Today he is senior producer and one of the owners of Telesgop Production Company in Swansea, who produce television programmes for S4C, Channel 4 and the BBC, radio programmes and bilingual teaching resources for the Welsh Government. He started competing at the Urdd Eisteddfod as a young boy and since then has been an adjudicator at local and at the National Eisteddfod. Dyfrig has been the Chair of the Urdd Eisteddfod Board as well as being a member of the Central Eisteddfod Literature Committee.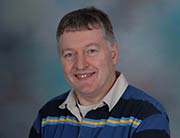 Rheon Tomos
Vice-chairman and Trustee
Rheon was born in Llanrug, but moved to South Wales after graduating from the University of Wales Bangor. He spent a period in Carmarthen, but has set up his home in Whitchurch, Cardiff. He is married to Einir and they have two children, Aled and Iwan. He has attended many Eisteddfodau all over the country. After working in financial administration, he is now a member of the TDE Partnership as well as having non-operational roles with S4C, Estyn and the Welsh Language Commissioner.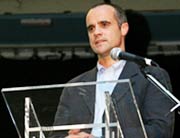 Tudur Dylan Jones
Trustee
Tudur Dylan Jones was born in Carmarthen but the family moved to Bangor where he went to school and to the University. He graduated in Welsh and Education and now teaches at Ysgol Gyfun y Strade. He won the Urdd National Eisteddfod chair in 1988 and the chair of the National Eisteddfod in Colwyn Bay in 1995. He was chaired by his father, John Gwilym Jones who was the arch-druid at the time. He was appointed Welsh Children's Laureate in 2004. He is married to Enid and they have two girls, Catrin and Siwan.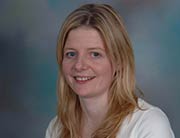 Andrea Parry
Secretary and Trustee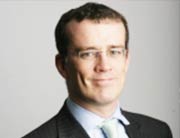 Aled Walters
Honorary Solicitor and Trustee
Aled is originally from Cardiff and is a partner at MLM Solicitors in the city. He worked as a solicitor for S4C and S4C International before joining MLM. He was a member of Urdd Gobaith Cymru, Adran Rhiwbeina and Aelwyd yr Urdd Heol Conwy, and has worked in the Urdd residential centres on several occasions. Aled is also a trustee of Menter Caerdydd, director of Clwb Rygbi Cymry Caerdydd, and was a member of the Youth Orchestra of Wales. He is also a semi professional musician.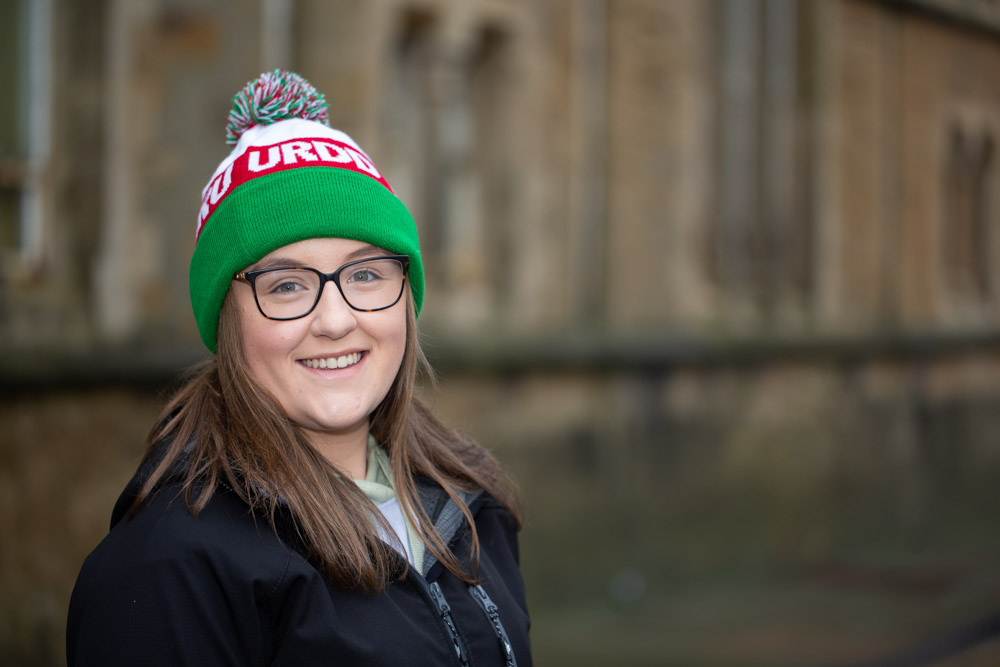 Mared Edwards
President
Urdd Gobaith Cymru's President is Mared Edwards from Porth Swtan, Anglesey. Mared was elected in the middle of her final degree year at Aberystwyth University, and is not known for resting on her laurels. During her school years, she was the Ambassador for the Urdd in Ysgol Uwchradd Bodedern and Chair of the Anglesey Youth Forum, before being elected Vice-Chair of Bwrdd Syr IfanC (the Urdd's National Youth Forum) in 2018.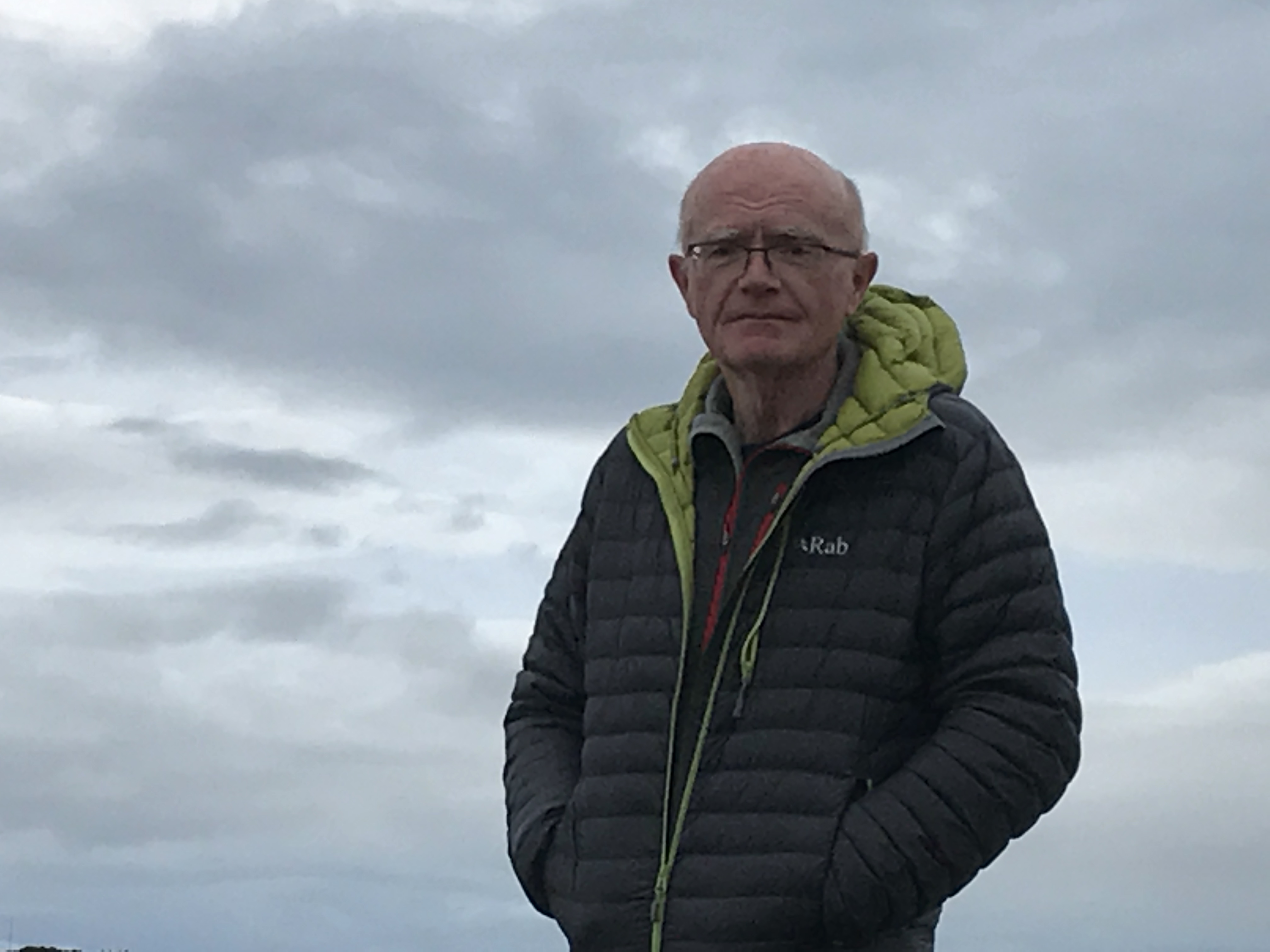 Gwyn Morris
Trustee
Gwyn Lewis Morris was born in Pwllheli, but has been living in Blaenau Ffestiniog since 1990. Before retiring he was a Mathematics teacher, spending the last 30 years of his career at Ysgol Glan y Môr Pwllheli. When he was young, he spent many happy summers volunteering in the Urdd summer camps in Glan-llyn and helping on the Eryri weekends, where he met his wife, Nia. Since then he has been a member of numerous Urdd committees, including Eryri Treasurer for over 25 years. He is married to Nia. They have two children, Llŷr and Iwan, and three grandchildren - Math, Non and Aron.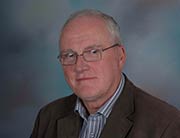 Wynne Melville Jones
Honorary President
Originally from Tregaron he worked with the Urdd in the 1970's as a County Organiser, Publicity Officer and Head of Public Relations. He organised many large campaigns such as Urdd 74 to promote the movement in the South Wales valleys, the largest balloon race in the world releasing 100,000 balloons from the residential centre at Llangrannog, and he was responsible for creating Mistar Urdd in 1976. He was the Urdd Chairman between 1990 and 1997 and he is now an Honorary President. He has now returned to exploring his interest in art, and is making a name for himself as an artist, having already held several exhibitions of his work.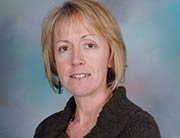 Rhiannon Lewis
Honorary President
Rhiannon Lewis was raised in Cwmann near Lampeter where she lives today. She received her education at Ysgol Gynradd Ffynnonbedr, Lampeter, Ysgol Gyfun Llanbedr Pont Steffan, Cardiff College of Music and Drama, and the University of Wales, Aberystwyth. She was Head of Music at Ysgol Uwchradd Tregaron for over 30 years, and is now the assistant head at the school. She is an ex member of the Aelwyd at Lampeter and benifited immensely from all the experiences she gained there. She is also and ex member of Aelwyd Caerdydd and the Urdd's Drama Company. She now enjoys teaching the Urdd members at the adran and aelwyd in Lampeter as well as the pupils of Ysgol Uwchradd Tregaron. She has been a national officer for twenty years – nine years as chair person, and was a vice chair person and a secretary before that.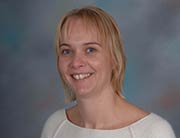 Carol Davies
Trustee
Carol is Deputy Head teacher at Ysgol Gynradd Llanilar. She received her early education at Ysgol Gynradd Dolau, Llanharan, before attending Ysgol Uwchradd Llanharri, and receiving a BEd Music from Trinity College Carmarthen. She is an former member of the Urdd and has continued to volunteer over the years. She was the Urdd's President between 2004-2005, a Vice-president for two years, and established Aelwyd Trefeurig. Carol also sits on the Ceredigion Area Committee. After years of competing she now enjoys teaching children to compete in the Urdd Eisteddfod, in sports activities and taking them to the residential centre at Llangrannog.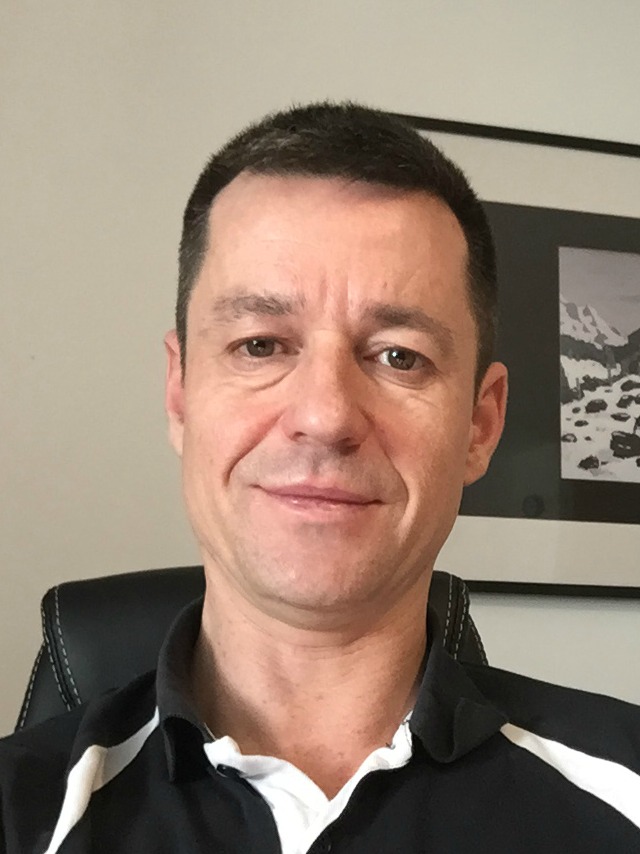 Sion Edwards
Honorary President
Sion received his education at Ysgol Gyfun Penweddig and Llandovery College. He went on to complete a BSc in Business at Cardiff Business School. After leaving the University, he spent two years training with NatWest Bank, before being appointed Commercial Manager for IMP Development, Aberystwyth Marina. Since 2007, he has worked for the family firm in Aberystwyth.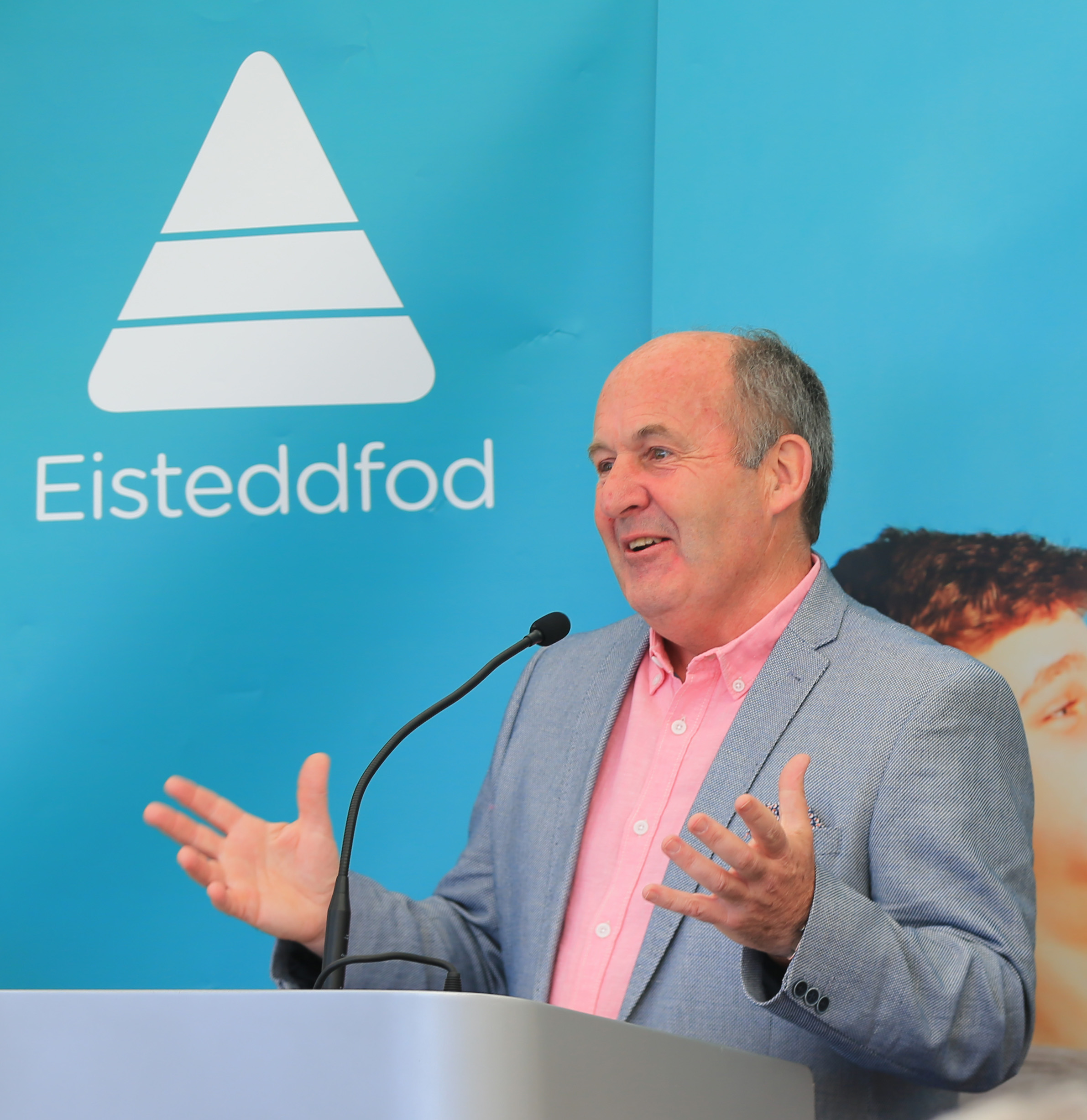 Dilwyn Price
Trustee
Dilwyn has volunteered with the Urdd for over 40 years – with his work varying from running Urdd junior and senior youth clubs (adranau and aelwydydd), training Urdd members for the Eisteddfod to holding the position of Chair of the Executive Committee in the Conwy 2008 Urdd National Eisteddfod. But maybe he is most renowned for his contribution to Urdd Jamboris, which he led from when they were first introduced in 1988. It was quite a mission to lead 1,000 children singing but in 1997 he travelled to Cardiff for the Urdd's 75th birthday, when he led 12,000 children in Cardiff Bay.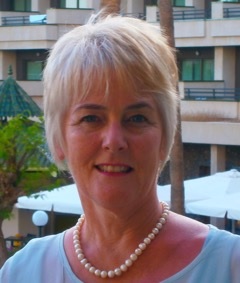 Meriel Parry
Trustee
Born in Talybont, a small village between Bethesda and Bangor, she attended Ysgol Uwchradd Dyffryn Ogwen where she was introduced to the Urdd. Her three children, Manon, Llinos and Huw were bought up with the Urdd enjoying all aspects of what they offer – from competing in Eisteddfodau, gymnastics, swimming, athletics, public speaking to enjoying at the residential centres. Having recently retired as the Head of Ysgol Tregarth and Ysgol Bodfeurig, today she continues to support and mentor newly qualified teachers as well as being involved with the Nursery School in Tregarth. She was the Chair of the Eryri Urdd Eisteddfod in 2012 Executive Committee and has been a keen member of Urdd local, regional and national committees. With five grandchildren, she looks forward to seeing the Urdd develop and offer the next generation opportunities to enjoy and socialise through the medium of Welsh.
Urdd Staff
Urdd Council
The Trustees of Urdd Gobaith Cymru delegate their responsibilities of running the company to the Urdd Council who usually meet twice a year. The Council is responsible for developing strategies and plans, and for giving the company strategic direction.
The Council delegates its responsibilities to the Executive Committee between the Council meetings, and the Executive Committee has the right to make a decision in an emergency, or when an urgent decision is needed.
The Council delegates everyday Urdd administration work through the Urdd Chairman to the Urdd's Chief Executive, and through her to all Urdd staff.
To contact the Council please email helo@urdd.org
Urdd County Committees
The role of the county committee is
to act as a link between the counties and the Urdd Council
it is the responsibility of the County Committee to organise local Eisteddfodau in the county
with the help of Urdd staff, the County Committee promotes all activities the Urdd provides
We welcome anyone wishing to volunteer and be part of a County Committee. For more details contact your local development officer