Staying at Llangrannog
Although most teachers and parents recognise that residential courses offer children and young people invaluable experiences, we understand that many have concerns about such trips. We understand these concerns and have done everything we can to ensure schools are given every support throughout the process.
What should my child bring to the centre?
You should ensure that a name is shown on each item of clothing.
Night clothes and toiletries.
Spare clothes (not the best).
A warm jumper and anorak or raincoat.
Play clothes, swimming costume and towels.
Trainers or suitable shoes for walking, and an old pair of shoes or wellingtons for the horse-riding and motor bikes.
Suitable clothing for skiing and tobogganing i.e. old gloves and an old tracksuit or jeans. (Tracksuit bottoms with "Poppers" are not suitable.)
Pencil and notebook (for courses only).
VERY OLD CLOTHES FOR OUR MUDDY ADVENTURE COURSE (April – October). Very old clothes should be sent for this activity – clothes you don't mind getting very dirty or even thrown away after the activity or on returning home as this activity is very muddy – but a great deal of FUN. A bag is provided for the dirty clothes after the activity.
IMPORTANT: 
You should ensure that a name is shown on each piece of clothing (especially swim wear) - a large number of untagged items are left every week!
It is important that each child brings the HEALTH CERTIFICATE (pdf download available on this page) to the Centre with details of any illness or problem that the child may have, and a telephone number should we need to contact the parents or family.
Are there any items that my child is not allowed to bring?
Please don't allow your child to bring a radio or personal music player (e.g. iPod), video games or expensive toys, torch or mobile phones (there is no reception in the area) to the Centre, and due to Health and Safety regulations, a pocket knife, aerosol sprays (please bring roll-on deodorant), portable electric equipment e.g. hair dryers, ghetto blasters, curling tongs and travel irons are not permitted. 

If children do bring these personal items then they will be collected at the beginning of the course and returned at the end. Any other valuables may be left at Reception for safekeeping e.g. cameras. 

WE WILL NOT BE RESPONSIBLE FOR ANY LOSS OR DAMAGE TO THE ABOVE ITEMS IF BROUGHT TO THE CENTRE
Can my child phone home regularly?
Please do not arrange for your child to phone home at the beginning of the course. If you do not hear from us you can be sure that your child is safe and well. We will contact you immediately there is a problem with health or homesickness. If you have a message for your child you are welcome to contact Reception (01239 652140) or email (Llangrannog@urdd.org). The Centre Director will ensure that the message is passed on. 
What happens if my child has a problem while at Llangrannog?
A member of Urdd staff is present 24 hours during your child's stay. Therefore if your child has any problems or concerns staff will be on hand to deal with any issues promptly.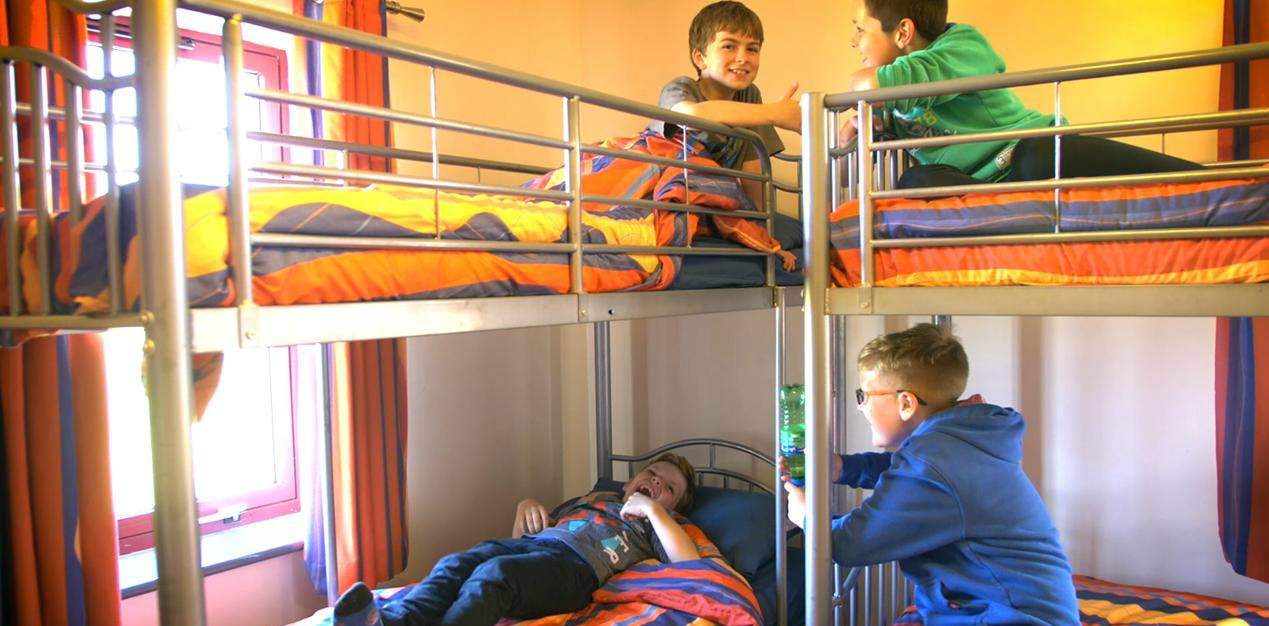 Where will my child be sleeping?
All children sleep in centrally heated bedrooms. The children are responsible for making their beds and keeping the rooms tidy. We ensure that each child knows where to find help during the night from staff who are close at hand. Corridor lights are on throughout the night. Foam pillows are provided. 
Image Not Found.
Eating at Llangrannog
Meals are provided each day with a variety of Healthy Eating menus to suit all tastes. The Centre has been awarded a Food Hygiene Rating of 5 see under the Food Standards Agency's Food Hygiene Rating Scheme. Children with allergies and special diet requirements are catered for e.g. a nut allergy, gluten free, diabetic, no dairy products, etc. - please inform us a week in advance so that the necessary arrangements can be made. Please remember to include this information on the Health Certificate as well. Vegetarian meals are available at all mealtimes. Cold drinks are provided free of charge at all times. Hot drinks can be purchased outside of meal times.
Health and Safety
We take pride in our Health and Safety record, and believe that this is one of the reasons 84% of our visitors return to stay at the Gwersyll time after time. Robust structures are already in place which ensure the safety of children, teachers and adults during their stay.
Below is an outline of our security systems:
3 Safety Barriers and CCTV system
DBS - Every member of staff has undertaken the 

Disclosure and Barring Service (enhanced 

check)
Qualified staff for activities. The Gwersyll has received 'Investors in People' status and has also won the title 'Employer of the Year' at the Cwlwm Busnes Ceredigion awards.
Fire Safety. A fire drill is held as soon as possible after the children arrive at the Gwersyll. Rooms with visible fire alarms are provided for those with hearing impairments.
First Aid - There are fully-qualified First Aid Officers on call 24 hours a day
Designated First Aid Room and a place in which medicine is kept under lock
Specific systems are in place for food allergies. A menu is provided for every dietary need.
Risk Assessments for every activity
A full-time NEBOSH officer who is responsible for Health and Safety