Looking for something to do during February Half Term?
8-12 years old?
Why not come to the Urdd, Swans and Scarlets Sports Camp at the Urdd Centre Llangrannog?
2 dates this year as Half Term dates are different in North and South Wales:
North Wales counties: 13-15 February 2018
South Wales counties: 20-22 February 2018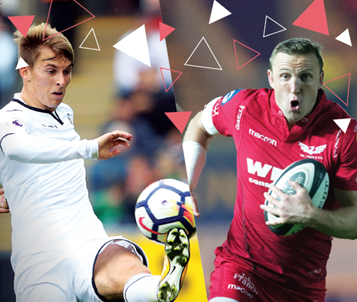 Develop your football and rugby skills under the supervision of experienced Swansea City and Scarlets community coaches! Every child will also receive a goodie-bag from each club!  
You can also enjoy the variety of activities at the Centre, including our indoor climbing centre, skiing, quad biking and more!
 We provide accommodation of a high standard and up to four meals a day, we can cater for all dietary needs.
 The course will run from lunchtime on the Tuesday to lunchtime on the Thursday for £115. Buses are organised to collect children from all over Wales (subject to sufficient numbers) for a maximum charge of £20 return. 
 INTERESTED? You can apply as a group of friends, through your local Urdd branch or as an ndividual by returning the form to the Llangrannog Urdd Centre. 25% of the course fee (£37.50) and full bus fare is required with your application. This deposit is non refundable except in exceptional circumstances whereby non attendance is supported by a medical certificate.
Back