Where it all began
The wooden cabin of the refrectory, was the focus of the Gwersyll at the time. The gwersyll ran for four weeks during the hot summer of 1932, with room for 150 residents. 
The Gwersyll went from strength to strength in 1936 with grants from the Social Services Council and the Jubilee Trust enabling more resources and more cabins to be built.
In 1938, the first mixed Gwersyll was held in Llangrannog, before this they were segregated according to sex. Also during that summer a gwersyll was held for adults who wanted to relive their youth on the shores of Ceredigion. 
In 1939, with the aid of Health Council grants, the Llangrannog gym was opened, giving the Urdd the opportunity to develop educational courses for children and schools. This marked the beginning of the practice of combining education, the outdoors and leisure. During the same summer a new chapel was opened on the site.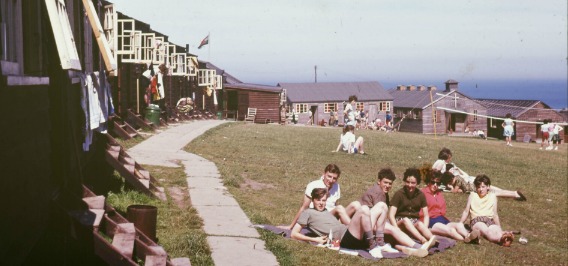 1950s, 1960s, and 1970s
As Llangrannog proved itself very popular, the Urdd decided to establish another Gwersyll for the older members of the Urdd, namely Gwersyll yr Urdd Glan-llyn
In 1967, after the Aberfan disaster, when 116 pupils from Pant Glas Primary School were killed, a party of children and parents were welcomed to the Gwersyll for free. They in turn showed their appreciation by presenting the Gwersyll with a trampoline. 
 In 1968, £18,000 was paid for Cefn Cwrt farm on which the Gwersyll was situated. This was the highest price the Urdd had ever paid for land up until that point.
This was the beginning of the 'new' Llangrannog. The 1970s was a period of intensive development, with the Gwersyll opening its doors throughout the year for the very first time. Some members of staff are still here today!
A new dining cabin and sleeping blocks were built, and by the end of the 1970s all sorts of new activities and resources were available, including a large barn, swimming pool, hospital, shop and new gym. 
1980s and 1990s
The developments continued into the early 1980s as grants from the Welsh Office enabled the Gwersyll to expand and build halls, workrooms, a storeroom, a bike shed and a new sleeping block. 
There were huge developments in the Activities Department between 1987 and 1991, with the construction of a new ski slope, swimming pool and bridleway. 
During the 1990s the Hafod sleeping block was built with en-suite rooms.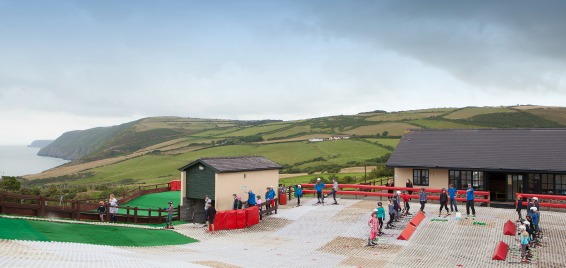 Latest developments
During the first decade of the new century a £5.5 million investment was made to build a brand new sleeping block, Cilborth, which accommodates over 200 residents in en-suite rooms, the Syr Ifan Leisure Centre, Heritage Centre - Caer Chwedlau and a designated parking area for the ever-increasing workforce. More recently we have opened an Indoor climbing centre, new accommodation block – Eleanor and not forgetting our Sustainability Project!