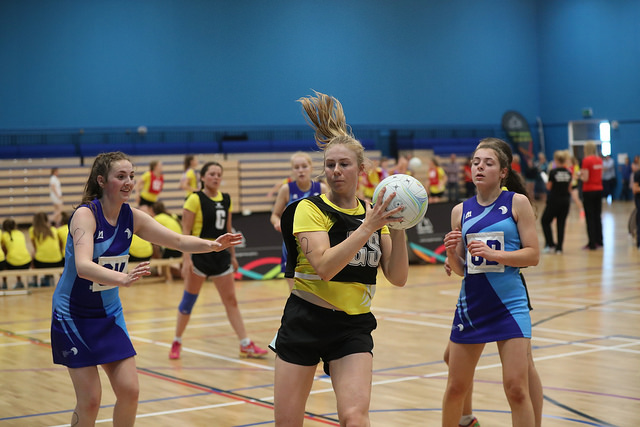 We hosted our National Netball Tournament this year on Thursday 23rd of November in three different venues across Cardiff:
Years 7 and 8 – House of Sport, Leckwith
Years 9 and 10 – NIAC (National Indoor Athletics Center)
Years 11 and 13 – Talabont Sport Centre
Over 110 High School teams from every corner of Wales competed for the title, with Ysgol Gyfun Glantaf winning two Cups, one in the Year 7-8 competition (Glantaf [9] Vs. Maes Garmon [2]) and the other in the Year 11-13 competition (Gwyr [14] Vs. Glantaf [[21]). Cardiff High School came out victorious in the Year 9-10 Cup Competition winning by 8 goals to 6 against Ysgol Gyfun Plasmawr.
The winners of the Year 7-8 Plate competition were Ysgol Gyfun Cwm Rhymni [14] and in second came Ysgol Gyfun Bryn Celynnog [2]. In the National Indoor Athletics Centre (NIAC), Glantaf won with 8 goals to 6 against Ysgol Gyfun yr Olchfa in the Year 9-10 Plate competition, whilst Ysgol Gyfun Cwm Rhymni's A Team won the plate in the Year 11-13 tournament with 12 goals to 9 against Ysgol Coedcae.
You can see the whole list of results from the day's events in our archive.